Schools have a wide variety of learning management systems (LMSs) to choose from. Each LMS differs in complexity, feature sets, and cost. Below, we'll discuss some of the major LMSs in the K-12 space.
---
Overview
As of 2019, Canvas, Google Classroom, Moodle, and Schoology are the most popular LMSs for K-12 districts. Behind them are Blackboard and D2L, which see more implementations in larger districts and in the higher-ed space. Microsoft Teams (not listed in the graphic below) is a very recent entrant into the LMS space, as well.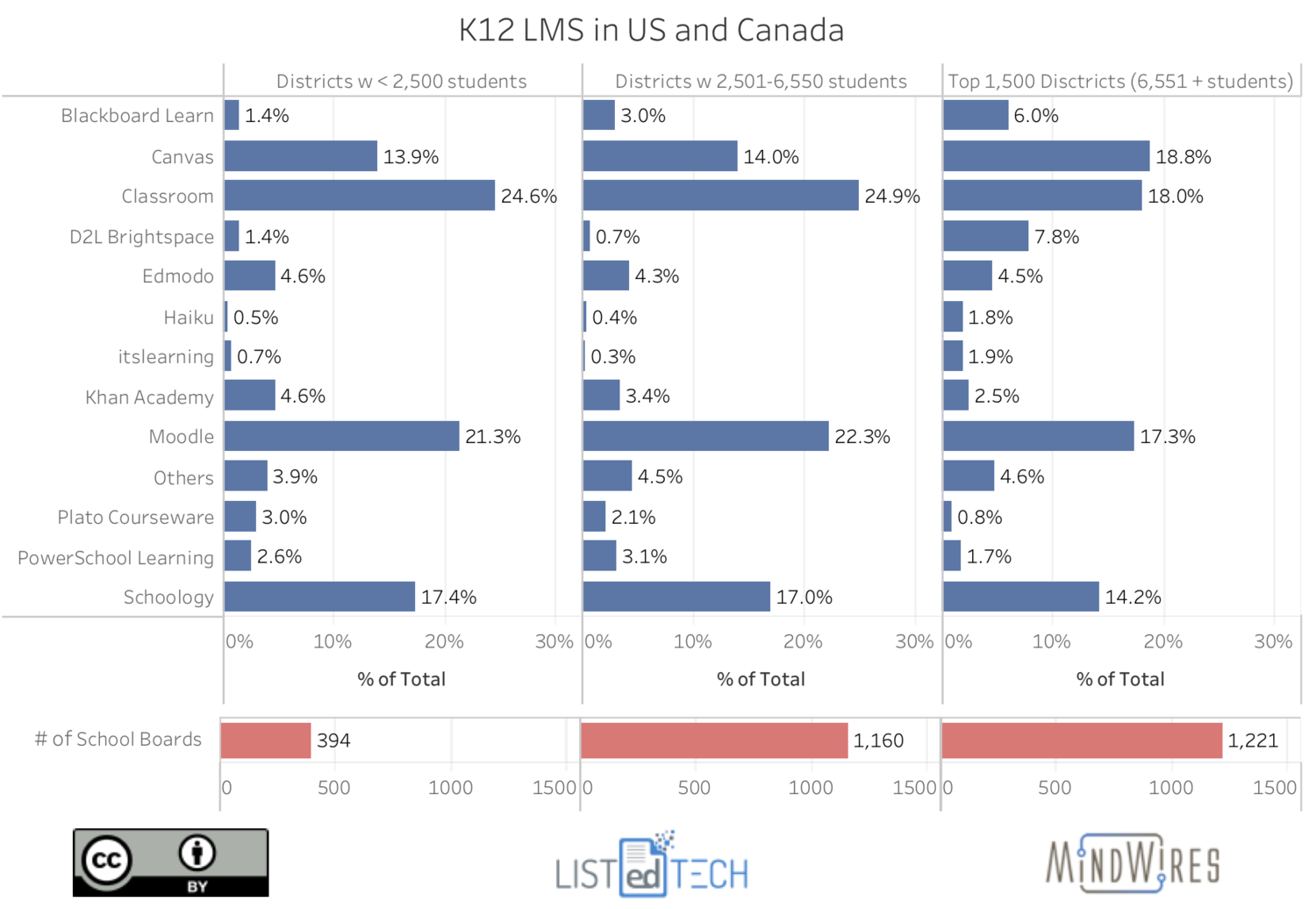 Canvas, owned by Instructure, was initially launched for higher education in 2011, and for K-12 in 2012. Canvas is the most widely used LMS in the combined K-12 and higher education market. Canvas offers free accounts for individual teachers and paid options with support and SIS integration for schools and districts. The cost of implementing Canvas at the district level varies greatly depending on the size of the district's user base. Schools that adopt Canvas may either use Canvas' cloud platform or self-host Canvas on their own servers.
Canvas supports API and LTI® integrations with third-party applications. The Canvas Graph API allows for resource creation, grade passback, and rostering. Canvas also supports LTI v1.3 and is LTI Advantage Complete. In order to integrate with any third-party application, the administrator of the user's Canvas instance must manually enable the integration. Instructure also hosts the EduAppCenter, which is a marketplace for LTI-enabled applications.
Schoology, founded in 2009, is a cloud-based platform and offers solutions for individual teachers and enterprise users. The basic Schoology package (which is offered to individuals, schools, and districts) is free. Schoology earns revenue through premium upgrades, such as branding, additional support, increased storage, SSO capabilities, and integration with SIS's.
Schoology offers API and LTI v1.1 integration. The platform also hosts an App Center to showcase third-party applications that users can install into their courses or groups.
In October 2019, PowerSchool bought Schoology. PowerSchool is the largest provider of SIS's in the US for K-12 districts. PowerSchool previously made an attempt into the LMS market with the purchase of Haiku Learning in 2016. However, Haiku never gained the traction PowerSchool was hoping to achieve. Thus, PowerSchool decided to deprecate its suite of LMS resources in favor of Schoology's existing platform.
Moodle
Moodle is an open-source and free LMS first released in 2002. Moodle can be hosted on a private web-server or through Moodle's proprietary cloud service called MoodleCloud. Moodle supports a high level of customization. There are hundreds of plugins that Moodle admins can install depending on the needs of their campuses. Moodle offers integration with LTI v1.3 and LTI Advantage Complete services.
Google Classroom is a free, cloud-hosted LMS available to schools and teachers. Classroom offers many of the typical features seen in other LMSs, such assignments, submissions, and grade reporting. Classroom also offers developers access to their API, which can perform functions, such as grade passback and assignment creation. Google Classroom does not support LTI.
Blackboard
Starting in the early 2000's, Blackboard dominated the LMS landscape for nearly a decade. However, as more and more entrants came onto the scene, such as Moodle and Canvas, Blackboard began to lose its dominance. Today, it is still the third largest LMS provider in terms of number of total enrollments (source).
Blackboard offers the traditional features of an LMS paired with advanced analytical, accessibility, and collaborative tools. Blackboard's suite of services specifically for the K-12 market is called Blackboard Unite. Blackboard's charges schools per learner per year. The cost of each license is between $17 and $30 per learner, depending on the level of support needed and the size of the contact between the school and Blackboard.
Blackboard offers both cloud-based and self-hosted solutions for clients. Blackboard is LTI v1.3 and LTI Advantage Complete certified. Blackboard also offers REST API integration and deployable Java web apps called Building Blocks that run directly within Blackboard Learn.
Brightspace
Similar to Blackboard, Brightspace (owned by Desire2Learn) has higher rates of adoption in higher-ed. Specifically, it sees a greater share of usage in the Canadian market. Brightspace for K-12 is a paid service. Desire2Learn provides an API for developers who wish to integrate with their platform.
Microsoft Teams is a newcomer to the LMS market. While Microsoft does not explicitly call Teams an LMS, the service does provide many of the same functions that other LMSs offer. Teams is currently free to use for schools and comes as part of the Office 365 Education suite. Applications can integrate with Microsoft Teams using Microsoft's Graph API.
---
We hope this guide helps to summarize the major LMSs. If you wish to learn more, please see our guides about each LMS in the links below:
Learning Tools Interoperability® (LTI®) is a trademark of the IMS Global Learning Consortium, Inc. (www.imsglobal.org)