Industry Overview
LMSs took control of 5% of the top 40 products accessed in the 2020-2021 school year. Their contribution laid the ground to continue a competitive market. According to Grand View Research, the 2021 global edtech market is 106.46 billion USD. And it's expected to compound at a growth rate of 16.5% from 2022 to 2030. As of 2019, the most popular LMSs for K-12 are: Canvas, Google Classroom, Moodle, and Schoology (ListEdTech). Following their lead, Blackboard and D2L Brightspace perform in larger districts.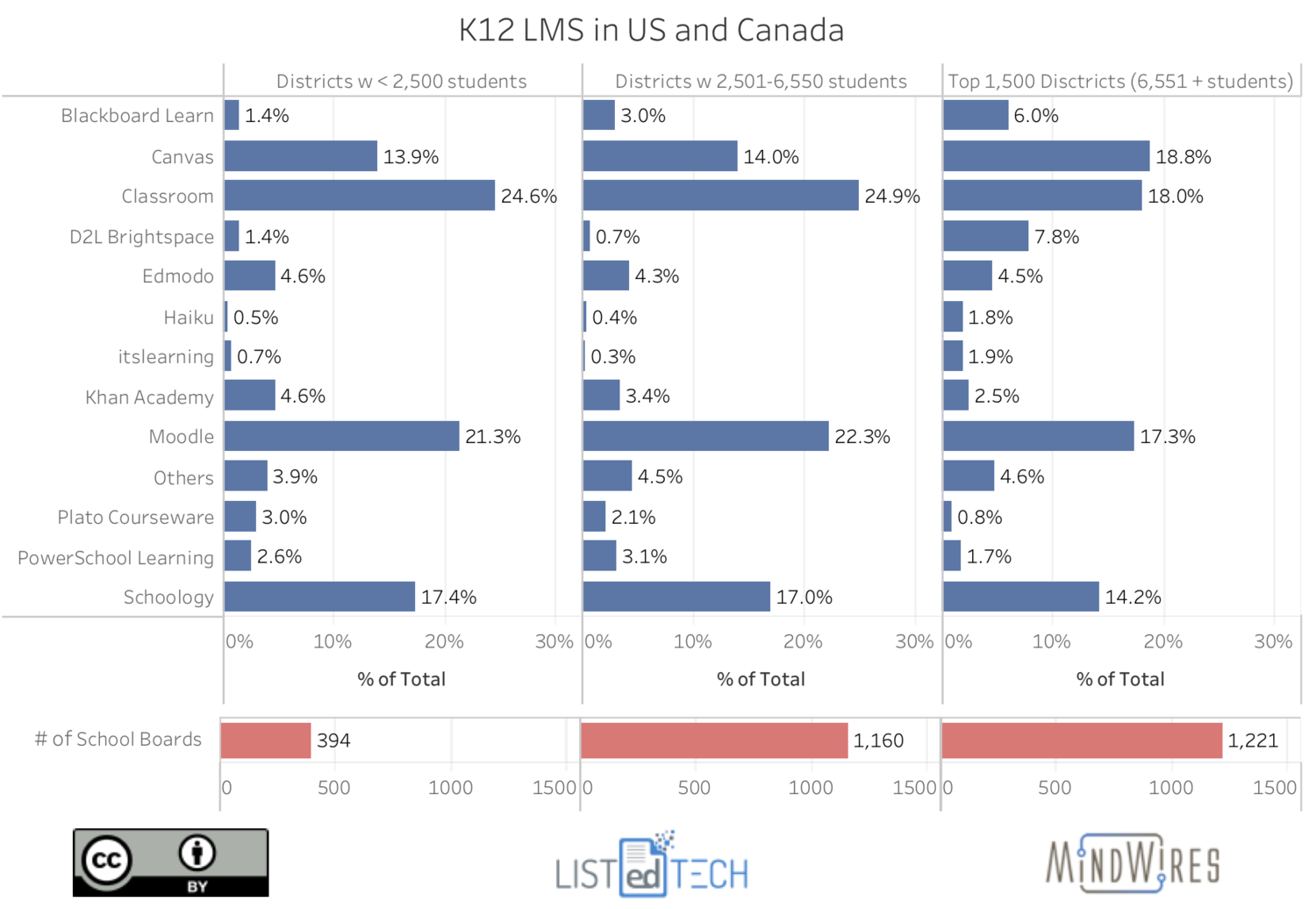 Blackboard
Today, Blackboard sits within the top 10 LMSs (ListEdTech). It offers traditional LMS features paired with advanced analytic, communication, and collaboration tools. For the K-12 services, Blackboard licenses cost between $17 and $30 per learner. The product's pricing will vary depending on support level and the school's contract size.
Blackboard is LTI v1.3 and LTI Advantage Complete certified. The LMS deploys Java web apps called Building Blocks. These blocks run directly within one facet of the product.
Explore these 3 articles to learn more about Blackboard:
D2L Brightspace
Desire2Learn's (D2L) LMS, Brightspace, began a little more than 20 years ago. The product places into the top 10 of LMSs (ListEdTech). The product's pricing is not public, not predictable. But Brightspace does support LTI v1.3 and LTI Advantage. The LMS uses many traditional features and some innovative ones. The video assignment and virtual classroom features help educators. These video tools can help a teacher assess a student's educators knowledge and skills through demonstrations.
Explore these 3 articles about Brightspace:
Canvas
The LMS lands within the top 5 of LMSs (ListEdTech). A key feature of Canvas is its modules feature. Modules allow users to create pages with text and embedded content like images or videos. The product offers free accounts for individual teachers and paid options with support. The cost of Canvas for a district varies. Its price all depends on the district size and user base. Schools that adopt Canvas can use its cloud platform or host on their own servers.
Canvas allows resource creation, grade passback, and rostering. Speaking of integrations, it supports LTI v1.3 and is LTI Advantage Complete. Administrators must manually enable the integration for a user with a third-party application. Instructure also hosts the EduAppCenter, which is a marketplace for LTI-enabled applications.
Explore these 3 articles about Canvas:
Google Classroom
Google Classroom finishes above the other LMSs; they're number 1 (ListEdTech). By using Google classroom, users get access to Google Workspace. This cloud-hosted LMS offers features like live classes and virtual discussions. Live classes use Google Meet, so teachers can take real-time classes virtual. Virtual discussions use Google Docs to allow for two-way communication and question-drive talks. Also, Google Classroom is free.
The product's API let's developers perform grade passback and assignment creation. But, it doesn't support LTI.
Explore these 3 article about Google Classroom:
Moodle
Moodle sets itself apart, by placing number 2 in the top LMSs (ListEdTech). The LMS is free – first released in 2002. Its users can customize Moodle at a very high level and use hundreds of plugins that admins can install. Educators can use Moodle's multimedia integration feature. This feature allows educators to search for and insert video and audio files.
Moodle offers integration with LTI v1.3 and LTI Advantage Complete services. The LMS is open-sourced. Iit can live in a private web-server or through Moodle's cloud service, MoodleCloud.
Explore these 2 articles about Moodle:
Schoology
Schoology, founded in 2009, places top 3 among LMSs (ListEdTech). Powerschool bought Schoology in October 2019, changing up the LMS market. The basic Schoology package (offered to individuals, schools, and districts) is free. Users enjoy the impersonation feature, View Course As. The features let's users check different displays from another perspective.
Schoology earns revenue through premium upgrades, such as branding, additional support, increased storage, SSO capabilities, and integration with SISs. The product offers API and LTI v1.1 integration and is a cloud-based platform. As of January 2022, it also supports LTI Advantage Complete. The platform hosts an App Center to showcase third-party applications. Administrators then install these applications into their courses or groups.
Explore these 3 articles on Schoology:
---
Read More on Integration
Here are other articles we've written on LMS integrations to help you on your journey:
Learn More about Edlink
If you're looking for a partner who can help guide you through developing LMS integrations (like some of the ones we listed here), then let's introduce ourselves. We're Edlink!