When you build an LMS or SIS integration in your EdTech App, the data coming from these systems can have errors that are tedious to fix. Our Transformations feature solves this problem.

We'll touch on: Why we created our Transformations feature, how it improves data coming from the LMS and SIS, and how easy it is to use.

Summary:
Both app developers and school admins would like to fix incorrect data being sent to learning apps. Beyond the school admin correcting the data in the LMS and SIS itself, there isn't a great way to do this.
To address this problem, we created our Transformations feature.
This feature works by giving school admins and app developers the ability to override and mask data coming from the LMS/SIS.
Our Transformations is a self-serve, simple feature in the Edlink dashboard.
The Challenge: Less-than-perfect LMS and SIS Data
When it comes to integrations, we know that LMS and SIS data can have its quirks. Misspelled names, incorrect email addresses and roles—you name it.
For example, an SIS like Skyward won't send you the data for school administrators. Meanwhile, an LMS like Canvas or Google Classroom won't send you a user's role in the school.
Even if a school admin is able to easily correct their data in the LMS or SIS, there isn't enough time in the day to catch it all.

So, what's a developer to do?
Enter Edlink's Transformations feature
When a school connects their LMS or SIS to Edlink, both the school admin and app developer can "transform" the data being sent to the app.

This means you can:
Edit data fields coming in from the LMS or SIS your app is integrated with.
Mask data fields that your school customer would like to keep private.
Some examples of how Transformations helps our clients and their customers:
If an instructional coach is incorrectly enrolled as a type of administrator in the LMS, the app developer or IT admin can update the role of the user to a teacher or to a role that can be mapped in their platform.
If a student has a misspelled name or e-mail address in the LMS, the app developer or admin can update the student to have the correct spelling in the app.
If a school would like to prevent their learning app from accessing their students' full name, the app developer or admin can remove that field from data synced from the LMS to the app.
But how easy is it to use?
It's a piece of cake – we promise. Our Transformations is a self-serve, simple feature in the Edlink dashboard.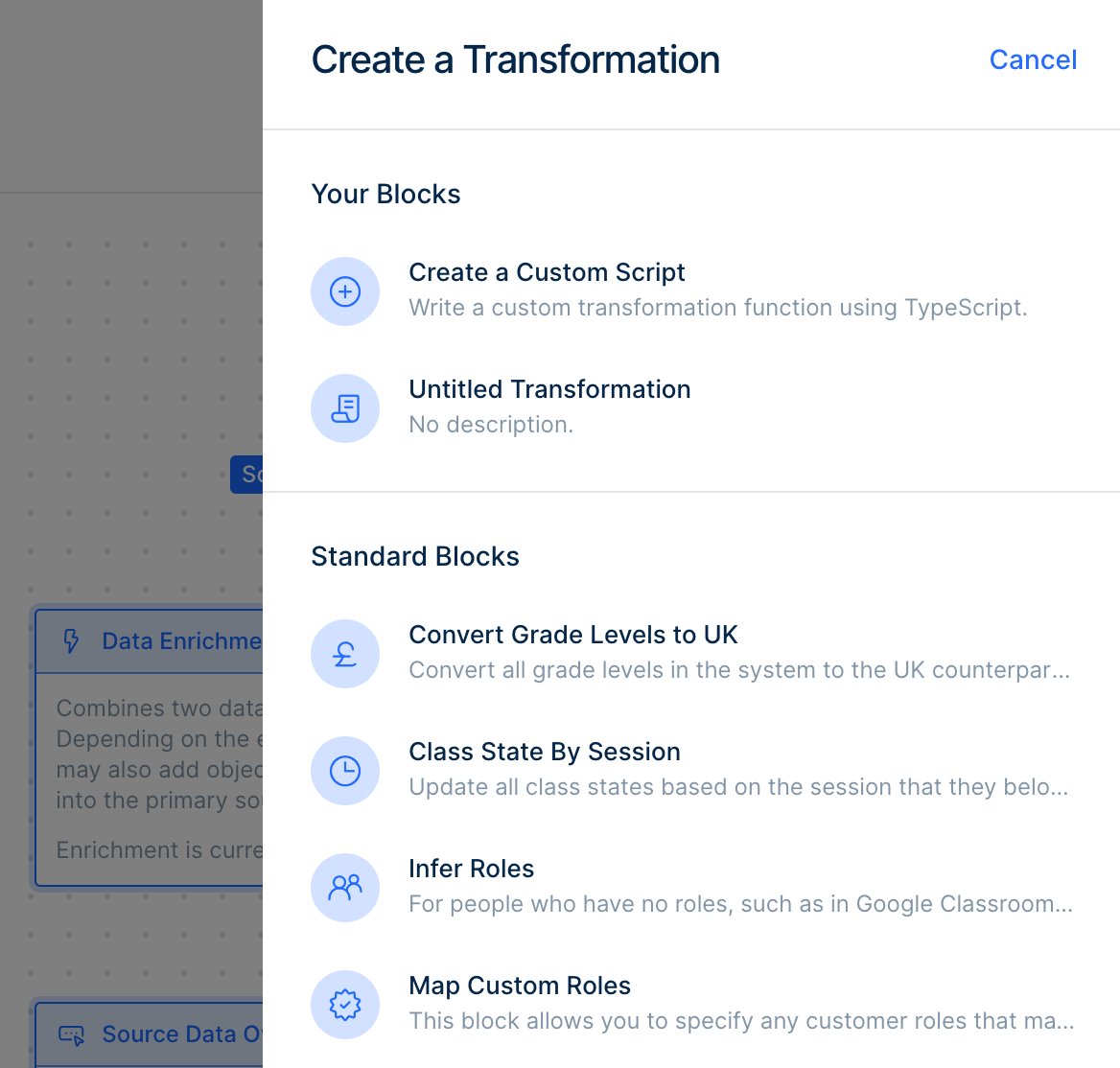 Here's how it works:
School admins and EdTech developers input the changes they'd like to make to their data via our visualization tool.
Once they've selected their changes, Edlink automatically updates the data that's sent to the app.
The school admin will quickly see these changes in our dashboard.
Interested in better managing your app's school data?
If you're interested in learning more about how our platform and Transformations feature works, we'd love to talk! We work with several EdTech publishers and curriculum providers to make sure their apps can integrate with all of the major LMSs.
To set up a call with our team, please shoot us an email at accounts@ed.link or leave a message at our support page.