When you build an LMS integration into your EdTech app, it can be difficult to limit which users should actually be accessing your app through the integration. Our Sharing Rules feature solves this problem.

We'll touch on: Why we created our Sharing Rules feature, how it makes LMS integrations safer, and how easy it is to use.
Summary:
Both app developers and school admins would like to limit the amount of school data shared with apps. But, LMSs don't offer a great way to do this.
To address this problem, we created our Sharing Rules feature.
This feature works by giving school admins and app developers the ability to select which users are shared with Edlink-connected apps.
Our Sharing Rules is a self-serve, simple feature in the Edlink dashboard.
The challenge: limiting access
Learning Management Systems don't provide developers a great way to retrieve data for only a subset of users at a school. Additionally, school admins are increasingly concerned with the amount of student data that they share with third-party apps.
So, what are developers to do?
The solution: Edlink's Sharing Rules
We've addressed this problem with our new feature - Sharing Rules.
Sharing Rules gives developers and school admins the ability to set rules on which users, classes, or enrollments are shared between their LMS and Edlink-connected apps.
When a school connects their LMS or SIS to Edlink, both the school admin and app developer can select which users from the school's data source are allowed to access the app.

Here's how it makes LMS integrations safer:
Only authorized teachers and students will be able to log-into the app.
The app can't retrieve any data of unshared users.
Schools and app developers know exactly what school data is being shared, and can view, manage, and update this data anytime.  

Some examples of how Sharing Rules helps our clients and their customers:
If a learning app is subject-specific, such as a science app, our Sharing Rules feature can be used to share only the relevant classes.
Sharing rules prevents unlicensed users from accessing learning apps for free.
But how easy is it to use?
It's a piece of cake – we promise. Our Sharing Rules is a self-serve, simple feature in the Edlink dashboard.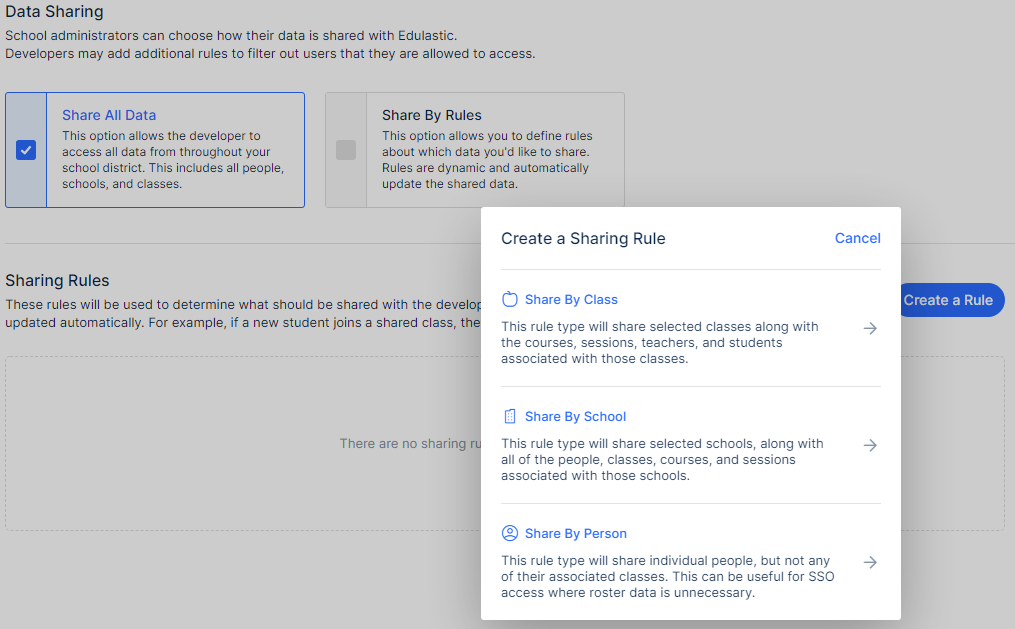 Here's how it works:
School admins and EdTech developers select which data they'd like to share via our visualization tool.
Once they've selected their school data, Edlink automatically updates the data that's sent to the app.
The school admin will quickly see these changes in our dashboard.
Ready to manage your school data?
If you're interested in learning more about how our platform and Sharing Rules feature works, we'd love to talk! We work with several EdTech publishers and curriculum providers to make sure their apps can integrate with all of the major LMSs.
To set up a call with our team, please shoot us an email at accounts@ed.link or leave a message at our support page.